Listen to this Episode on Podcast:
I got a chance to interview, Chris Hart – a veteran recruiter with over a decade of experience to discuss how trends are changing in the employment application process.
For me, when I was an employee, I had never used a recruitment agency, however it's always intrigued me as to how it worked?
If I was ever to look for employment, I don't even have a resume anymore…it's now a 'personal portfolio', so I was curious to find out what my resume should look like, if I was ever to enter the employment market again, and WHO should I go to exactly, for help in finding the perfect employer for me?
That being said, he's got quite the heart and passion for what he does and being a recruiter doesn't exactly sound like it's the easiest job, so Chris decided to create a niche platform just for recruiters to offer them support and tips to help recruiters find candidates, and it's already picking up traction with guest contributors!
Key takeaways:
♦ How does employment work when you ARE the recruiter?
♦ Learn about THE RECRUITER INDEX for recruiters.
♦ Job Seeker HACKS in finding employment.
♦ Employers and Social Media – is it detrimental to be active?
♦ Millennial Employment Trends & Instant Gratification.
WATCH this interview
Interview Highlights:
1:00 – How does employment work when you are the recruiter?
2:15 – Chris's new startup, The Recruiter Index – WHO is it for and HOW Does it work?
4:08 – Will The Recruiter Index also be helpful for candidates to find recruiters or visa versa?
5:20 – KPI – what is it?
6:00 – We discuss the Canadian Oil Crash and how competitive it's been to find work in Calgary, Alberta.
How do you standout with mass competition?
Is it better to work with a niche industry recruitment agency vs general?
8:20 – How can agencies help people get jobs?
9:00 – Hacks to get yourself out there and prep for the interview!
12:40 – Entrepreneurs! Perhaps you still need work while you work your startup, or you no longer are in business – What should your resume look like?
14:00 – The regular CV/Resume application process VS a presentation?
Should we be adapting unique ways to apply for jobs?
Are images okay on our CV?
16:30 – How detrimental is it for a candidate to score the job when they are active on Social Media?
Chris tells a story about a candidate not getting the employment agreement, because the employer found and did not like their social media content.
Can some employees benefit a company when they are active?
We review the interview with Michael Chase, who got FIRED for Posting on Social Media on behalf of the company he was employed.
19:15 – Can you lose your job for 'Just Cause' in England?
We discuss 'Gross Misconduct'. Chris shares a story about a guy on the marketing team who sent a disgruntled email to all clients by accident when it was meant to be only be internal.
20:40 – Millennials & Instant Gratification. What is Chris noticing in regards to turnover with millennials and employment trends?
What is The Recruiter Index?
Chris explains Here:
A Message for Recruiters:
I now understand the targets you need to hit in order to have a successful career in recruitment.
That being said, not everyone gets blessed to find a great leader who is willing to mentor you.
So if anyone is new at this career or finds themselves struggling, I think what Chris created within his niche is pretty outstanding!
It's pretty apparent that he's got quite the passion to teach and support other recruiters.
Check out The Recruiter Index and let me know what you think!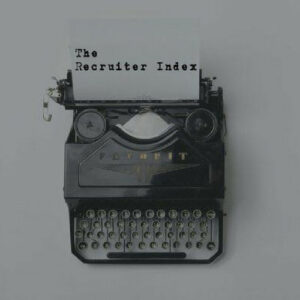 Chris is also a contributing writer and has published articles for Venturi-Group, The Recruitment Company and iContract.
Leave a comment below.

We're always looking for tips and feedback OR start a conversation about this episode in our forum.