Listen to this Episode on Podcast:
Eric Termuende shares his BIGGEST SECRET on how he was able to get into the National Speakers Bureau and he gets deep about his thoughts on the employee experience.
Find out what Eric thinks company's should be tossing and what he suggests they can be doing instead, to make them stand out as an employer with great employee culture.
In this interview, the key take aways are:
♦ How to get paid speaking gigs
♦ A tricky hack on how you can get your resume past the algorithms to land in front of a HUMAN
♦ Eric reveals his BIGGEST SECRET on what he did to get into the National Speakers Bureau
♦ The difference between getting PAID TO SPEAK or PAYING TO SPEAK
♦ How to get into the media (FORBES Magazine)
♦ Understanding WHY we post on Social Media – the vanity metric vs boosting a brand
♦ Should we be emailing our resumes?
He's also the published book author of RETHINK WORK.
And guess what?
He's only 26 years old!
This interview is jam packed with information on how we should be applying for jobs!
And…if you're an aspiring speaker, you're going to want to WATCH this interview for all of Eric's tips on how you can make a living from speaking full time!
Interview Highlights:
1:31 – How Eric mostly makes his living.
1:55 – How he got published.  What support did he get or find.
4:00 – How to get into the rolodex of the agencies.
5:03 – How many speaking gigs did it take to get noticed by agencies?
5:25 – Amateur speaker? Eric explains what you could be doing right now.
6:17 – Eric's BIGGEST SECRET revealed on how he strategized to achieve his goal!
9:02 – How to get into the media such as Forbes magazine.
11:30 – The difference between PAYING TO SPEAK vs PAID TO SPEAK.
13:30 – Eric's thoughts on WHO should be posting content these days and WHAT you should be using social media for.
16:10 – Where is employment going in terms of flexibility, choosing candidates and how can candidates get found.
17:20 – Eric describes the "Modern Employee Experience Analysis."
What the employer does vs the prospective employee.
20:00 – Turning the questions around on the employer.
How and who you should be interviewing for the job you want.
20:45 – Eric's hack on how to get your resume through the employer algorithms.
21:00 – Should we be emailing our resumes?
Vanity Metric vs Brand Building
In terms of utilizing social media, Eric says that you should be asking yourself these few questions:
◊ What are you building a brand for and how will you leverage it to get the next job or client?
◊ Why are you posting?
◊ Is it for ego or a vanity metric?
◊ or does it help build your brand, business or career?
GET Eric's Book HERE: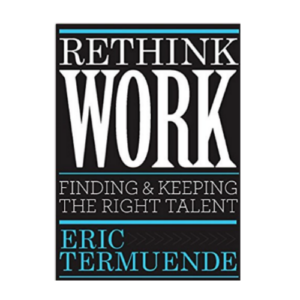 Eric's Plans for Reinvesting
There was a time when Eric was getting massive reach on social media, but he now believes he's reached the level where they want him to pay-to-play in order to achieve more reach.
I'm focused on doubling down on my SEO. I can only control my own platform rather than competing with social algorithms.
Eric's Features in FORBES:
Eric is speaking at the Telus Convention Centre on October 6th, 2018.
Leave a comment below.
We're always looking for tips and feedback OR start a conversation about this episode in our forum.