Listen to this Episode on Podcast:
You want to meet your favourite singer? Sure, that's easy!
My friend couldn't believe it when the ELLEN Show actually called!
Nevermind meeting an idol…now you find yourself looking for a new career or trying your hand at entrepreneurism.
Gone are the days when you post something kind of cool where you get tons of likes, shares or comments that seemed to easily go viral if it was captivating enough.
Now it feels like CRICKETS out there when you post non-sponsored content.
Even YouTube is making the stars work harder to get their videos recommended to their subscribers. They now want content on the daily!
You might have even noticed that a YouTube video won't even display the 'play button' anymore on a Facebook newsfeed – It looks like an image.
Why?
Because all social media platforms want to be your main host.
So with all the noise out there, which platform is a good investment to create content on today and how can you do it that will help you stand out?
Has anyone else noticed how many more likes and comments your own personal network is getting when they post on LinkedIn, compared to the other platforms?
Well I noticed Fabio Marrama!
He's getting MILLIONS of views on his content and it all started with one little article which got him incredible reach in under 3 months!
I was lucky enough to interview him, to pick his brain on how he did it to learn for myself and also share it with you!
WATCH Fabio's full interview to get ALL of his tips, so you can learn how to get more reach using Linkedin…
Interview Highlights:
1:33 – Fabio's Story
1:57 – What inspired him to write the article that received tons of reach
3:30 – His thoughts on why you should celebrate others
4:28 – Why he's excited about Linkedin for content curators and who he thinks are great influencers
7:15 – The difference between Facebook vs Linkedin
8:30 – How Linkedin is rewarding content creators
8:40 – Fabio's tips begin!
15:30 – Driving traffic to your own platform
17:00 – More strategies on HOW to post your content
19:30 – Overcoming fears, "Who am I to create content?"
20:29 – Fabio shares how positive the Linkedin community is and how his growing network is teaching and inspiring him.
21:23 – Why you should post QUALITY over quantity
22:30 – Why you need to think about your personal brand in regards to WHAT you are posting
24:48 – It's okay to get vulnerable
25:20 – What are Linkedin pods?
27:59 – Ways to mix up the styling of your posts on Linkedin
28:50 – The algorithm challenges
29:50 – First impressions and tagging others
Interview with JAY SHETTY!
Afraid to share your content?
I want you to know now just how much I was scared out-of-my-pants (well I wear dresses actually) when I was about to launch WiseChase TV!
I myself LOVE to write, but I  literally looked for excuses and reasons as to why I shouldn't share…
What will people think? Am I good enough? Who the heck am I to share my thoughts, advice or experiences?
And I've been in business for nearly 10 years.
How the heck do you think you will get any business by having a 'secret business'?
Had I listened to this statement earlier..I might have grown faster.
The truth is, having a referral business can take a VERY long time.
Whilst I watched those around me setting their own fears aside, it took me way too long to get over myself.
So if you're hesitant and have fears…PLEASE ignore those nasty revolving stories in your own mind.
I WANT you to succeed. I want you to let your fears go.
At least TRY!
As long as you aren't hurting anyone, we can either laugh at ourselves later, or celebrate our glorious milestones while we teach each other how to NOT take it personal when we get trolls.
I admire Fabio because he admitted his vulnerability in feeling the exact same way…
…Now look at him go!
So you're ready to start posting content!
You need to EARN others trust
Ask yourself these questions:
Can you be real and authentic?
Does your content provide others with any value?
Can you solve a problem?
Is your content true?
Can your content inspire or motivate others?
Why should I post on Linkedin vs Facebook?
Back in the day, we could get hundreds of likes and shares when Facebook first launched, but their algorithms have now changed drastically to appease their advertisers.
Sponsored ads make them money, so organic posts are competing with paid content, and what do you think Facebook will want to show more of?
Will this change with Linkedin?
It's likely, but at least see some opportunity now!
Linkedin only launched their native video in August 2017, so you want to be riding this wave now!
Be some of the first to create!
Fabio's 8 Tips to Get More Reach on Linkedin
Just like any other social media platform, Linkedin's algorithms have multiple variables, so keep in mind that this will continue to evolve:
1) Post Consistently
  2 – 4 posts a week
2) Post Quality Content 
3) Mix up HOW you post your Content
This means changing up the way you write your content and mixing it up a bit:
• Post a one-liner one day and the next day, perhaps write a brief chunky styled paragraph.
• On another day, post a long-form article.
• Try a day where you post an article with easy-flow writing style.
This styling of articles are usually formatted for mobile phone reading. Short one sentence paragraphs that stand out when glazing over.
4) Create and Post a Video!
5) Keep your Content Clean of Links
• Try NOT to use links within your original post
• Instead – post your link in the commenting area
6) Always Respond to Commenters on your own Post
7) Engage with Others Posts
8) Post your RAW Original Video file
• Do this instead of posting a link from an external platform such as YouTube.
Linkedin's Video Requirements
Before you start producing and editing, Linkedin has some limitations as to how long your video can be: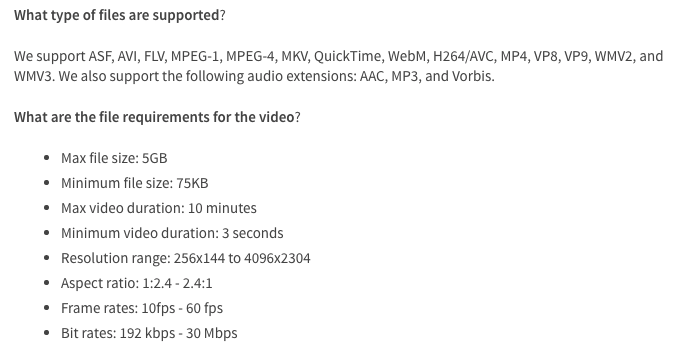 Here's more information on LinkedIn's Video Requirements
Practice this formula along with Fabio's Tips:
• Communicate with new or existing contacts within Linkedin messaging.
• Engage with others articles by liking, following and commenting on their content
• Tag others
Go for quality
♦ Don't post everyday unless you can 'snipe it'.
We don't really understand how any social media platforms algorithm's work?
They change all the time, however we've noticed that if you do the following, you might reach others whom you're not even connected to!
♦ Communicate with others using LinkedIn's private messaging service.
The algorithms seem to understand WHO you are actually engaging with, therefore Linkedin will start notifying you of that persons interactions and notifying them of yours.
♦ Engagement with Others = More Outreach
When I started engaging with Fabio, I began to get notified of his content contributions and his engagement on others posts.
This equals more outreach for him and for the other content creators that he's connected to!
What about driving traffic to my own website?
Facebook is the largest advertising agency that doesn't produce any of it's own content
The facts are that social media platforms want your content so they can use it for their own monetization.
This isn't necessarily a bad thing, because we all essentially have the same goal – to monetize our brands (that's if you're actually offering something).
Look at some of the YouTube stars! Many are now earning massive incomes from partnership revenues and sponsorship deals.
They can also pretty much sell anything because they've built the trust with their audience and advertisers know this, so why not develop your own brand within a platform that you have control of and use social media as your vehicle?
As much as you may have a love/hate relationship with social media, take into consideration that social media could indeed become a symbiotic relationship for you and your brand.
Want to follow some great Linkedin curators?
Have a business, product or service?
If you currently have a business, there should already be some strategy. Think about holding back some of your content by NOT giving it ALL up to the social platforms.  Your goal would be to drive traffic to your website.
Wet your audience's taste-buds:
Post valuable 'snippets' of your content
Snippets – Not all.
Post something of value on the social platform, but offer your audience valuable information that will make them want to go to the full version of your article, podcast or video.
Curt Mercadante does a great job of utilizing his videos on Linkedin to drive his audience to his valuable added content.
Finally, Keep your Written Posts Clean.
Now that Facebook has killed organic reach, if you're not sponsoring your posts, you need to know that your posts will not show up in others newsfeeds as much as they use to.
However, if this is your only option because of budgets, we've noticed that if you complete a post that does NOT include a link, you may have a slightly higher advantage – you just won't reach the masses.
Instead, explain in your post that they can find more info within the commenting area.
OR
Engage with your audience.
Ask them to comment with a word of your choice, where you can offer to PM (private message) them with more information.
…It can be a little annoying for your audience when they have to continue to load more comments to find your comment when there are many!  So do your best to not lose them.
What about Linked in Pods?
Q&A with Fabio
Jolene: What is a Linkedin Pod?
Fabio: It's simply a group chat via LinkedIn's messaging platform. It's similar to Facebook groups.
Jolene: How do you find a Linkedin Pod that you want to be part of?
Fabio: I was asked by another creator if I wanted to join one that they were starting.
There's no way of searching for them. You just have to build relationships with creators, produce high quality content and engage on their posts. Ask around if they are either in one or know of any.
However, if you don't produce good content, you likely won't be asked – no matter how much you engage with them.
Jolene: How do you create a Pod?
Fabio: Just ask a few creators if they are interested.  You can then add them to the chat. Set some ground rules for the group and you're off to the races!
Jolene: Do you think I can get an invite into your pod, Fabio?
Fabio:
Jolene: Fabio??  
If you want to read the article of Fabio's that reached so many, read it HERE.
What do I think is Important for Influencers?
If you are becoming a public figure or have your own business that relies soley on social media, I highly encourage you to make a plan to build your own platform that you can control.
…Or you may end up feeling discouraged about engagement drops when algorithms change or something happens like Instagram disappearing.
Highly unlikely!
But I still think you should check out this video by one of my favourite YouTuber's, Casey Neistat!
He'll tell you all about YouTube's DEMONITIZATION.
Something to think about.
Leave a comment below.
We're always looking for tips and feedback OR start a conversation about this episode in our forum.