Listen to this Episode on Podcast:
When I first met Karen Klassen through a mutual friend, all I seen was a walking success and powerful woman.
Never did I think at first glance, that she had ever been on welfare or even worse – addicted to drugs.
She had a drug dealing boyfriend and all she could think about was taking from others.
The narcissist and addict personality had taken over her mind, body and soul.
What and when exactly can this happen to us and why?
Is it deep rooted issues from childhood?
Karen's dad had wished that she was a boy, so she spent most of her childhood trying to act like a boy, believing that her dad would give her more love.
It didn't really work.
As an adult, she sought love and acceptance through men and sex and lost herself and purpose along the way.
I can relate to feeling ashamed as to who you were or where you came from.
I was a child of alcohol abuse and poverty.
We all have a past and the life we choose and WHO we decide to become is always up to one person – YOU.
You need to realize that you are not alone in the world of broken families, abuse, addiction, neglect or poverty.
There will always be someone, whether a child or adult that may need to hear YOUR story, so they can be inspired to keep going.
If you are struggling to make that 360 degree turn, you're not only going to be inspired by a woman who hurdled through her own pain and dark demons, you're also going to learn how she created a coaching and book publishing empire and how you can become the hero of your own story too.
WATCH this interview
Interview Highlights:
1:15 – Karen talks about her story of falling into drugs, sex, body deterioration and what inspired her to change her path.
3:59 – Realizing she was here to  contribute to the world.
4:37 – Discovering that she wanted to write her story down, which helped her to overcome her own fears and insecurities.
5:15 – When and what triggered Karen to follow the path of addiction?
7:25 – Her Success Story – From a job in insurance to developing her business model.
The movie that inspired Karen – The true autobiographical story about Shirley Maclean – Out on a Limb
9:27 – The #1 selling GAME that Karen and her brother for top retailers. Why she created it.
11:20 – Karen talks about when she realized that she wanted to focus on empowering woman which was why she created her book series, I am a brilliant Woman.  The 3rd volume is now available on Amazon
12:35 – Her next volume – What kind of stories does Karen look for in her book series?
13:40 – How Karen helps people self-publish to become Amazon Best Sellers.
17:40 – How do you get published?  Is it affordable to self-publish?
18:50 – The mass book publishing houses – The process of dealing with mass rejection and it's cost, which can be anywhere from $20,000-50,000.
20:00 – How many books do you need to sell to become a New York Times Best Seller VS Amazon?
21:00 – Are there costs to publishing on Amazon?  You can publish E-books and Kindle on Amazon for FREE.
21:19 – Karen discusses the importance of hiring editors and what the cost range can be.
21:30 – Where can you start if you want to publish your own book?
Karen advises that you can start by creating a Kindle or e-book, then get into publishing your own hard cover book.
The costs do publish a hard cover, can be anywhere between $1000-$20,000, depending on book size.
22:00 – How does Karen actually help her book writing clients to become a best seller? Does she promote them once they launch to her own networks?
23:00 – How you can get in touch with Karen.
24:10 – What are options does she provide if you want to get started on your own book writing journey?
What did I Learn from Karen?
I've always thought about writing my own book, but had NO idea how the book publishing process worked, or what the costs would look like?
What is better? To go with a huge publishing house off the hop or start on Amazon by publishing an e-book or Kindle for free?
I personally believe that taking the initiative to start simple, like publishing something on Amazon, can still bring you a lot of credibility if you are looking to get speaking engagements or offering services such as coaching.
With the available technology to self-publish for free on options such as Amazon…not going to lie – it's intriguing – when you compare the costs to a huge publishing house that can run you anywhere from $20,000 – $50,000, plus you have to pitch them.
With free Amazon publishing options, keep in mind that you can't always get very far with FREE.
There are still costs, such as editing if you are not a master at the written language yourself, where a professional hired editor can run you anywhere between $1500 to $5000, depending on your book size.
And don't forget about the book launch and marketing costs, which is normally the hardest part – SELLING.
You need to ask yourself if you have your own network or audience that you could market to in order to stay lean.
And please do not consider your family and friends your demographic.
They may not be interested within the niche that you write, and often the people who already know and love you, they may not take you seriously.
So you'll still need to understand your demographic and figure out how you can connect with audiences that are outside of your personal network.
You can run ads on Amazon and social media such as Facebook and Instagram, but you may not know how to navigate back-end ad managers, so all these costs can add up if you need PR and marketing.
I love the niche that Karen has mastered.
She seems to have the whole Amazon process down pat, with a launch strategy and an already developed following… so I'd be inclined to work with someone like her, where this is her wheelhouse.
In my opinion, you have two options…
To spend your own time to research, learn and make your own mistakes, or work with someone who can get you started and launched within a much more reasonable timeframe.
If writing an ENTIRE novel seems overwhelming, you could consider starting with a chapter in Karen's, I am a Brilliant Woman series. 🙂
I am a BRILLIANT WOMAN
Check out the book below!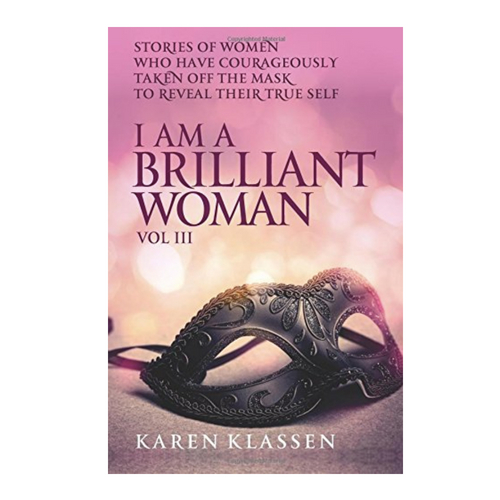 One More Thing…
It's also pretty cool that you can actually call yourself a "Best Selling Author" on Amazon with ONLY 300 book sales, compared to 5000 sales with the New York Times.
Leave a comment below.

We're always looking for tips and feedback OR start a conversation about this episode in our forum.